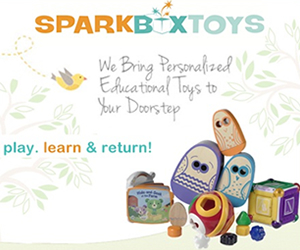 Spark Box toys
is a toy rental service that brings personalized learning toys to kids under 4. Get the world's best toys at a fraction of the cost! For children 6 months to 4 years old, get a box of 4 toys every 8 weeks and send them back when you are done. Say good bye to toy clutter and say hello to educational fun! ·
Play: Get a box of 4 unique educational toys selected from toy makers around the world. ·
Learn. Expertly selected to suit your child's developmental needs. ·
Return. When you are done, send the box back and receive another!
Always free shipping! Safe & Clean! All toys are sanitized, inspected and repackaged using organic products. Spark Box Toys is sustainable, philanthropic and eco-friendly. Best part is ... all of the toys will find their final home in the neediest schools around the country.
Try is free for the first 14 days (cancel within the first 14 days for a full refund) and also score $10 off your first month with a min 2 month commitment (use code SAVEME10) from
Spark Box toys HERE!
.