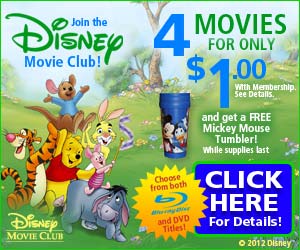 Get 4 Disney movies for only $1 + Free Shipping on your initial order when you join Disney Movie Club! Choose from a wide selection of Disney bestsellers the kids will LOVE. Register to become a Disney Club Member today and get a Free Disney Tumbler with your order! Click the banner above to check out the HUGE selection!
Fine Print/Details (FYI):
As a Disney Movie Club member, all you need to do is buy 5 movies at Club prices in the next 24 months (starting at $19.95 per DVD and $29.95 per Blu-ray), plus shipping and processing of $3.95 for the first title in each order, and $1.49 for each additional title in that same order. You may cancel your membership at any time after purchasing the 5 movies.
By agreeing to purchase at least 5 regular-priced movies in the next 24 months, you qualify to receive 4 Disney movies of your choice from the list of titles currently available from the Disney Movie Club for $1.00 total. Shipping and processing is FREE. Please allow 2-4 weeks to receive your first shipment.